Best Beach Rentals
633 Vonda View Blvd.
P.O. Box 3013
Franklin, KY 42135
270-776-2425
---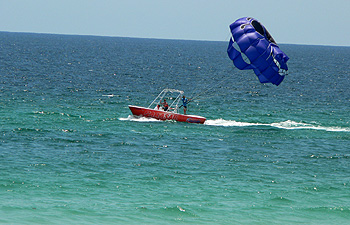 Orange Beach & Gulf Shores, Alabama

Fishing/Boat Cruises/Dophin Tours
The Gulf Shores and Orange Beach area offers a range of fishing and boating opportunities.

Jet-Ski, Kayak, and Pontoon Boats are available for rent at multiple locations in Orange Beach and Gulf Shores. Deep-sea fishing trips, sunset sail cruises, dolphin cruises and parasail rides are also available.

This area is one of the premier deep-sea fishing areas in the United States. There are many species of fish to be caught of the Alabama gulf coast all year long. Spring time fishing is highlighted by Cobia, King and Spanish Mackerel, Amberjack, Triggerfish, and a variety of Snappers. In the summer and fall months, the focus seems to be more on the short family trips for mackerel or the longer multi-day trips to the offshore rigs for Yellow Fin and Black Fin, Dolphin, Wahoo, Marlin and Swordfish. In the late fall and winter, the emphasis is more on trolling for Redfish and Mackerel on the short trips. Offshore during this time, the weather may be a bit fickle but the offshore fishing is at its peak. The one type of fishing that is available year round, on the longer day trips and overnighters, is the deep-dropping for Golden Tilefish, Long tail bass, Yellow-edge Grouper, Snowy Grouper, and other deepwater fish in the 600 to 1500 foot range. Not to worry most outfitters provide the latest in electronic assisted reels to aide anglers in pulling these unique fish out of extreme depths.

Fishing information (what is in season, weather forecasts, etc) is available from Alabama Gulf Coast CVB, along with a comprehensive list of marinas, fishing charters, dolphin cruises and more.

Gulf Shores / Orange Beach Fishing Charters & Cruises

Family Fun Parks
Orange Beach and Gulf Shores' family-friendly environment is one of our favorite things about this area. Here are some things to do if you decide to come in from the beach and pool!

| | |
| --- | --- |
| You'll find several spots that offer go-carts, arcades, bumper boats including Adventure Island and The Track. | |
| | |
| --- | --- |
| | You'll also find a full waterpark at Waterville USA. We have both indoor (at The Wharf) and outdoor miniature golf and the Southeast's largest ferris wheel also at The Wharf. |

The Alabama Gulf Coast Zoo, right in the heart of Gulf Shores, is renowned for its white tigers and for being the subject of the Animal Planet television series The Little Zoo That Could.

And don't forget Daulphin Island, The Exploreum Science Center interactive museum & IMAX theater in Mobile, and a trip to see the gators at Alligator Alley. We highly recommend the Naval Museum in Penscolla and IMAX if you would like to see the history of flight and our military.

Golf
The ten famous signature golf courses, designed by greats such as Arnold Palmer, Bruce Devlin, Jerry Pate, Earl Stone and Robert Von Hagge, are all conveniently located within easy driving range of the Gulf Shores and Orange Beach. Whether it's an annual trip with the guys, a weekend getaway for two or a trip with the entire family, you will find the perfect course for your group.

Our variety of signature golf courses is second to none. Creatively designed and strategically placed the Gulf Shores / Orange Beach area offers everything from scenic coast lines to wetland preserves, to rolling hills, to links-style golf and three great public golf courses cut right out of an Alabama forest preserve.

Our Orange Beach / Gulf Shores golf courses are challenging and picturesque, but conveniently close to all Phoenix Condominiums as well as San Carlos Condominiums.

More Local Golf Clubs

Shopping
You'll find grocery stores in Gulf Shores on Hwy 59 about 1-1.5 miles north of the beach. Winn-Dixie and Bruno's are directly on Hwy 59. Wal-Mart Super Center is just east of Hwy 59 on Hwy 180 (Ft Morgan Road). All of these are only a short drive from the San Carlos Condominiums. You'll also find a Winn-Dixie, Bruno's and a new Publix near all the Phoenix Condominiums in Orange Beach. There are a number of good local seafood shops.

The Tanger Outlet is located about 15 minutes north of Gulf Shores and Orange Beach in Foley. The Tanger Outlets have GAP, Nike, Coach, Ralph Lauren, Banana Republic, Juicy Couture, etc., etc., etc. There are a number of restaurants.

The Wharf is a development on the Intercoastal Waterway with a number of good restaurants, an array of local shops, a movie theater, indoor miniature golf, the Southeast's largest ferris wheel, an outdoor concert amphitheater, a marina and more. It is a good place to check out the boutiques and you'll find activities here around holidays and events like the boat races. You'll find it on Canal Road just next to the Beach Express bridge.

San Roc Cay is a small center with several very good restaurants, local boutiques, and a charming marina. This can be a great spot to watch tournament fisherman bring in their catch before enjoying a good meal.

Colonial Pinnacle located 3-4 miles north of the beach on Hwy 59 has a Target, Bed Bath & Beyond, Books-A-Million, plus lots of other local and chain boutiques to meet an array of needs. You'll also find Cobb Theater here.

Local Shopping

More Local Links...

Cosmo's Restaurant and Bar Fine Dining and great Entertainment! Unbelievable menu!

Desoto's Seafood Great Seafood Specialties! Very Family Friendly. Wonderfully price and excellent portions for great tasting food! Lunch Specials Daily.

Duck's Diner Open Wednesday through Monday until 2 pm. 251-948-9191. Just off Canal Road on Easy Street. Family owned and operated, local favorite. Serving Breakfast and Lunch all day long! Great Food, great service, great experience!

Fish Tales Dockside Dining. Very causal outdoor! Grab a beer and a burger as you head in or out of the Marina. Doc store also attached.

Flora Bama Direct Gulf Front! Bathing Suits and Beer Bottles are the perfect attire. Mullet Toss, Frank Brown Interantional Songwriting festival, Mullet Swing Golf Golf Classic. Truely a legend. A must to go atleast one time in your life! Survived most storms!

Geno's Fresh Catch Grill Prime Steaks served which are hard to find these days along with Sushi, Cajun Shrimp and Grit to name just a few of their menu items!

Gulf Shores Steamer Great Local Steamed Seafood. Crab legs, Royal Reds, Buckets of Shrimp, Hand Cut Rib Eye Steak! Mouth watering!

Johnny Rockets Old Fashion Hamburger Joint complete with Juke Boxes and dancing wait staff. Great Place to have fun and watch ferris wheel keep gong round and round.

King Neptunes A local favorite! Serve the Best Royal Reds, alaskan crab claw, snow crab claw and regular crab claws. Very affordable daily lunch special that feature homestyle cooking. The best of everything from soup to salad to seafood!

Lester's Fabulous local favorite. Great Food, Great Fund, Great Staff and affordable. What else can you ask for. Menu is quite varied. From home style cooking to Seafood and Steaks. Family oriented by day, night life upstairs in the evenings with live entertainment.

Live Bait Three locations to serve you! Two Restaurants and one night life club. Great Food, Great Fun and Great Atmosphere. On the water at The Wharf Marina and on the Beach Highway on Orange Beach.

Louisiana Lagniappe Specializes in Cajun Cuisine. Baked Louisiana Oysters on the Half shell with our special lagniappe stuufing and jumbo lump crabmeat is just one example of our flavorful unique and extraordinary dining experience.

LuLu's at Homeport Different Lattitude, Same attitude! Come enjoy dining on the banks of the Intracoastal waterway. Homeport Marina has attracts a large amount of Boaters as well!

Mango's on the Island Casually sophisticated waterfront dining, exclusive to Orange Beach Marina. With Caribbean acents through out the menu, you can enjoy steak cut Sashimi grade Tuna, Jamaican Shrimp en Banane, Seafood Paella and hand trimmed Prime aged steak!

Mikee's Seafood A place for seafood! Steamin, grilling and frying excellent seafood item. Pleasant atmosphere, great product!.. Great service.

Original Oyster House The Gulf Coast the best seafood in a great casual atmosphere with geniune Southern Hospitality.

Pappa Rocco's The home of "WARM BEER AND LOUSY PIZZA". Has won many people's choice awards. Best oysters on the half shell on the Alabama Gulf Coast. Live Entertainment Nightly.

Shrimp Basket Provides an enjoyable and yet affordable dining experience. Six locatins to serve you as well.

Tacky Jacks Breakfast, lunch and dinner! On the water dining. Famous breakfast Farmer Omelet and Belgiun Waffle! Mouth watering!

Panama City Beach, Florida

Golf

| | |
| --- | --- |
| Seek out that perfect hole-in-one while basking in the warm Florida sun, or practice your putting on perfectly manicured greens. Whatever you need to get your game on track, you can find it at one of the Panama City Beach golf spots - a total of five championship courses. | |
Panama City Beach golf is world-class. Thanks to temperate weather, stunning landscapes, challenging holes and more, Golf Digest dubbed Panama City Beach one of America's top three golf towns.

Bring your group and find easy and quick tee times with plenty of amenities that will ensure a spectacular Florida golf getaway for all. And not to worry, no golf widows here! There's plenty to do, with a wealth of shopping, attractions and beachfront activities right outside your door. Panama City Beach golf is a perfect shot for everyone.

Local Golf

Shopping
Looking for a little retail therapy? Our extensive shopping selection will ensure you don't head home empty-handed. From boutiques by the sea to open-air malls, Panama City Beach shopping options are perfect for a day-long splurge, a quick trip to find that one-of-a-kind souvenir and everything in between!


| | |
| --- | --- |
| | The crown jewel of our beachside city is the newly opened Pier Park in Panama City Beach. At roughly 1 million square feet, the open-air complex is the largest Florida shopping and entertainment venue in Northwest Florida. This brightly colored gem features a combination of national chain stores and local favorites, making it an unsurpassed Florida shopping mall. You can find everything from seashell jewelry and gourmet popcorn to business attire and designer handbags at this Panama City Beach mall. |

Pier Park's lineup includes Jimmy Buffett's Margaritaville, Ron Jon's Surf Shop, Dillard's, Target, Hofbrau Beer Garden, Starbucks, Border's Books & Music and many, many others. Visitors to Pier Park enjoy park-like walkways, spectacular Gulf views and a wealth of year-round activities for all ages - making this a memorable choice among Florida shopping malls. Pier Park also hosts outdoor entertainment and recreation throughout the year.

Another notable spot for Panama City Beach Florida shopping is Grand Panama Beach Resort, which features 55,000 square feet of high fashion clothing and accessory boutiques with a spa, wine tasting market, various restaurants and a host of shops.

Other Panama City Beach shopping options include all types from swimsuit outlets to sunglass shops and everything in between. Classic souvenir shops with massive selections of clothes, beach-themed home décor, toys and more line the beach and are easy to spot from almost anywhere. You'll find the best in Florida shopping malls, right here.

Local Shopping

Diving and Fishing
Fishing enthusiasts, get ready to bait those hooks and fish the gorgeous Gulf coast waters surrounding Panama City Beach! The remarkably deep waters off the coast of Panama City Beach put you as close to the action as you can get. Along with our Gulf waters, we have inland, spring-fed creeks and bay flats which offer a rich bounty. Novice and experienced anglers alike will be thrilled with the multitude of fresh and salt water options Panama City Beach fishing offers.

Head out on a charter, guide, or headboat and spend a fun-filled day with the family on the Gulf of Mexico or cast a line off the pier in St. Andrews State Park and get a taste of TRUE Florida Gulf fishing. Panama City Beach is also home to one of the country's largest sport fishing fleets, and visitors can choose from 16-foot-skiffs to million-dollar yachts.We promise you'll be impressed with the Panama City Beach fishing options, including deep sea fishing Florida.

Panama City Beach diving is ideal, thanks to gorgeous emerald waters, sparkling Florida sunshine and a multitude of natural, historical and artificial reefs. Known as the "Wreck Capital of the South," the underwater environment offers an incredible area for divers to explore.

| | |
| --- | --- |
| The Gulf waters surrounding Panama City Beach provide the perfect home for a wide variety of sea life. Sea turtles, giant manta rays, puffer fish, octopus, sand dollars, blue marlin and horseshoe crab are just a few of the species that inhabit these emerald waters, making for memorable diving in Florida. | |

Historic wrecks are scattered throughout the region, and include a 441-foot World War II liberty ship; a 220-foot tug, The Chippewa; a 160-foot coastal freighter, the S.S. Tarpon; the 100-foot tug, The Chickasaw; and the 110-foot tug, The Grey Ghost; as well as the Gulf of Mexico's most famous wreck, the 465-foot Empire Mica. Because of these and so many others, Florida wreck diving is one of the most popular things to do in Panama City Beach, allowing for an unforgettable underwater experience.

In addition to wrecks, 50 artificial reefs have been developed off Panama City Beach as part of a community-coordinated project with the Panama City Marine Institute. Allowing for the additional growth of exotic sea life, these reefs include Stage I, Stage II, fifteen 160-foot long and 35-foot high bridge spans, ten barges, the City of Atlantis, the LOSS Project and others. These reefs allow for fabulous opportunities for diving in Florida.

The natural reefs, just a few miles offshore, range in depth from 80 to 100 feet and from three to eight feet in height. They offer an ideal spot for viewing a plethora of underwater creatures, including small corals and colorful sponges. Closer to shore, the jetties at St. Andrews State Park are popular spots for snorkelers.

The best time of the year for Panama City Beach diving is April through September. There are multiple dive shops in the area that can accommodate the needs of water-curious visitors and provide everything from boat charters and training, to equipment repair and rentals.

Diving and Fishing

Nightlife
Panama City Beach Nightlife

Restaurants
Known as the "Seafood Capital of the World", fresh grouper, oysters, pompano and dozens of other local varieties are our specialty, but whatever your pleasure, you'll find plenty of enticing options amidst Panama City Beach restaurants.

Tempt your palate with everything from specialty sushi, exotic ethnic cuisine and Florida seafood favorites to island-inspired entrees, top-quality steaks and mouthwatering Italian fare. Whether you prefer a casual beachfront café, romantic candlelit hideaway or award-winning eatery, you'll find what you're looking for in the wide variety of Panama City Beach restaurants.

Chow down and eat up, you'll head home happy and full! Florida restaurants don't get any better than this. So enjoy our new arrivals and old favorites. Panama City Beach restaurants have it all.

Local Restaurants

Family Attractions
From pirate ships and animal parks to go-carts and giant slingshots, there are boatloads of Panama City Beach Florida attractions for the young and young at heart! It's never a dull moment on the beach that fun built. Florida beach attractions don't get any better than this.

See some oddities at Ripley's Believe It or Not, float the lazy river at Shipwreck Island Water Park or get lost in the Grand Maze at Coconut Creek. See a movie at the Grand Theatre, explore the Emerald Coast Mirror Maze or play some mini-golf at Barnacle Bay. These are the best in Florida attractions. Take a sightseeing trip, an airboat ride or a helicopter tour - there are so many things to do in Panama City, the list goes on and on. Whether it's water or land you love, there are so many choices. Make the most of your vacation with the vast variety of Panama City Beach attractions.

The possibilities for non-stop, flip-flop fun are simply endless! Florida attractions in Panama City Beach offer options for every member of the family. So if you're looking for things to do in Panama City Beach, look no further. Watersports
The sparking emerald gulf bordering Panama City Beach invites beach water sports enthusiasts to dive right in! From the bay to the beach, opportunities abound to explore Gulf waters in every way imaginable.

You can spot lush underwater fauna on a glass-bottom boat tour, coast through the Gulf of Mexico on a sailing charter, soar through the air on a parasail or speed through the waves on a jet-ski.

Panama City Beach Florida is chock full of spots perfect for canoeing & kayaking. Bring your equipment or rent at many local establishments, and hit the local parks for great spots in the surf. Take the kayak to the bay or lagoon, or bring the canoe to a nearby spring. There are so many things to do in Panama City Beach, you won't know where to start!

Beautiful beaches, a temperate climate and Gulf waves make for some of the best surfing conditions going. Waves are generally small to moderate sized and perfect for novice or less experienced surfers.

From yachting to sailing and sport fishing excursions, visitors can find every type of boating activity imaginable in Panama City Beach. Pontoon boats, banana boats, glass-bottom boats and more are available for passage at local marinas and watersport companies - talk about options for things to do in Panama City Beach!

See the beautiful beaches of Panama City Beach Fl while sailing through the sky! Parasailing offers a once-in-a-lifetime opportunity to take in the big picture and admire the vast and vibrant scenery over Panama City Beach. Participants are lifted into the air through the use of special parachutes, and towed behind boats across the water. The big chutes can hold multiple people so that you and your friends or family can share the experience.

In kiteboarding, also known as kitesurfing, wind power is used to pull a rider through the water on a small surfboard. Between both flat-water and waves, Panama City Beach has some of the best locations for the sport. There are also a few barrier islands, including Shell Island, that provide some spectacular, serene riding areas.

Sugar white sands and mostly flat water conditions make Panama City Beach a great location for skimboarding enthusiasts. In this activity, riders run and drop their board into the thin wash of previous waves, then use their momentum to skim out to breaking waves, which they ride into shore. This is a favorite among beach water sports enthusiasts.

Also known as stand-up paddle surfing, this sport originated in Hawaii and is growing increasingly popular among celebrities and watersports enthusiasts around the world. These boards are much larger than the typical surf boards, and the rider stands using a paddle to move the board over the water. SUPs glide over the water when it's flat, and are used to ride swells and waves, much like in surfing. The safe waters surrounding Panama City Beach are an ideal location to try the sport, which is why it's one of the more popular things to do in Panama City Beach.

You won't find better Florida water sports than right here in Panama City Beach, where gorgeous emerald waters beckon you to take the plunge. So come on, dive in!